Well, you see, politic never really was my thing... 
The weight of an upbringing under the cast iron lid of a fascist household left me with a bitterness so strong that I always felt I'd spare everyone from my bright political insights, for the last thing you wanna do after you throw up is whisper into one's ear…
Finding fresh perspectives outside was challenging ; the Champagne countryside is mostly populated by half-witted racists driving their Range Rovers through the mud of their tiny bubbly legacy. Hopefully, over the years, I'd start meeting more and more of those bright souls that would help elevate mine.
Each film I make confirms that gut feeling : this journey is the right one for me.
In the light of the current Black Lives Matter movement shaking not only the United(?) States, but many other countries, I thought I'd take the time to write down on the page some of the reasons why I made this film.
Larry, Yust Explains

 is the portrait of an artist, but not only. Hopefully this little blurb will draw you to it. And if you don't like spoilers, I invite you to watching the film first.
Cheers, and thanks for your time.
We should talk about LARRY.
Easter Sunday 2014, Hancock Park. 11am.
I park at the curb and walk to an imposing hundred year old adobe house planted a little over a mile from my very own pad on the skirt of Hollywood. 
A waiter walks me to the back of the house where a
 group of fifteen to twenty people is already gathered around the bar ; another twenty folks are scattered across the various gardens surrounding the house, and a dozen kids are running around carrying baskets filled with eggs. 
I'm halfway through my glass of wine. 
"

…and here comes the Don

" - I hear my friend Alex say. 
I turn around to find a ninety something gentleman standing under the patio. His white hair and white suit ignite to the slice of spring light crashing on him. 
"

Straight out of a movie

", I hear myself say. 
Tuesday November 2016. Gnomon School, Hollywood. It's 9pm.
The class I teach is called "advanced Character Development". I usually arrive pretty burnt out from my day job but within minutes their youth and insatiable appetite act like fuel and I'm on a roll for 3 hours. 
But tonight is different.

It's election night and the air smells like rot.

I play a sequence from

The Wall

and share some illustrations from Gerald Scarfe. 
"

Think for yourself, question authority

", I remind them, before hoping into my car. I press start... and KCRW kicks in : 
"

Donald Trump has clinched the presidency— "

. 
I sit at my desk at home and open a bottle of wine, but this is not a celebration. 
I stare at the view before everything gets covered in ashes.  
And it will. Figuratively, morally, and beyond.
April 12th 2018. Hancock Park. It's 8pm.
I'm following Larry through the garden and to his office. 
I know very little about the man, other than he directed a bunch of educational films for Encyclopedia Britannica, moved on to make features, and later on became (and still is) a successful photographer. Larry saw my film

Solitary Mann

, as well as Granular. He liked the energy in both and that's why we're here talking about a documentary about his life. 
A couple hours go by. We shake hands and I leave with a few books, a bunch of DVDs, and a treatment. "

You don't have to read that

, he says, before adding "

but have a look at it anyway

".
It's time to do my homework...
The first film I watch is an adaptation of

The Lottery

(1969)

,

a short story by Shirley Jackson. Each year, the people of a small (imaginary) town in 'murica gather for a lottery where

the winner is… stoned to death !

They believe it will help with the… crops.
The New Yorker ends up with a pile of angry complains from their readers when they publish the short story in 1948, but that won't stop them from republishing it numerous times after that. The subject remains very contemporary after all (it's also true of 

The Day after Tomorrow

 or

Idiocracy

).
The Lottery

might as well be a Twilight Zone episode and must have traumatized a bunch of kids at school for often times when I mention it, people respond with something along the lines of "

no shit wait-wait. I've seen that one. It's nuts

". 
It must have hit a string for Trey Parker and Matt Stone (creators of

South Park

), who heavily referenced it in an episode called "Britney's got a Hat", using not only the mechanic of it, but also many of Larry's characters. ​​​​​​
Despite being rejected by the producer after the first screening,

The Lottery

 will end up becoming one of the most sold educational film in America.
​​​​​​​Larry's first feature,

Trick Baby

(1972),  is based on a novel by an ex pimp named Iceberg Slim.

The story is about a couple of black (think "African American" but in the 70's) con-men, one of them looking white. This detail is key because his looks gives him access to the wealthy fringe of white society. 
It's a classic master/padawan story, but politically charged due to the racial origins of the lead characters (echoing Icerbeg Slim's very own). 
Trick baby

is a good watch, but it's a dinner scene where the host (Donald Symington, impeccable) speaks about the importance of

"not leaving the smart ones into the ghetto"

that made it for me. 
The character elaborates, stressing the fact that accepting 'them' will not only reduce the risks of feeding racial anger, it will neutralize and alienate the potential leaders…
We're five years after the assassination of Martin Luther King Jr and the riots in Detroit. Romain Gary published

Chien Blanc

 and his wife Jean Seberg is getting a little too much attention from the FBI for hanging out with the Black Panthers. 
Larry is directing a Blaxploitation movie.
​​​​​​​The third film,

Homebodies

(1974), is about a group of elderly people who decide to fight back after they get kicked out of their house because of some urban redevelopment project. The film has a lot of heart and humor, and avoids dwelling into social commentary all while clearly expressing what's about to happen in every major city across America/the world. 
We're in 1974, Larry is making a film about gentrification, and my mother just gave birth…
The photography works (large 'elevations' of landscapes and cityscapes) only confirms what I already know from his films : Larry's curiosity, eclecticism and political awareness are inspiring. 
I call him back to set our second meeting. 
I've got a film to shoot.

​​​​​​​
​​​​​​​

Annnnd, relax. We're pretty much done here.
I will spare you the Yelp review and won't go through the Granular (ha!) details of the making. Larry gave me his time, energy and support all the way through. He never interfered, and offered me with great filming opportunities that made my job if not easy, easier. 

​​​​​​​​​​​​​​
​​​​​​​

In addition to Larry's own comments on society through his production (films and photographs), a disturbing story came to light when I interviewed Isidore Mankofsky, his long time friend and DP.
A confrontation between some cops and a group of Indian workers takes place a block away from where the film crew is preparing for a scene of Homebodies. To the first sights of altercation, Isidore (who worked as a news reporter in the past), runs with a camera and films the whole thing. 
A cop shoots and kills one of the Indians. Three bullets.
That little strip of 16mm film will find its way to the court room in Philly, and becomes key to getting the Indians out of jail (of course they were sent to jail)… 
Larry, Yust Explains

, plays like a stream of consciousness, as if we were stepping inside his head (something I started exploring with

Solitary Mann

), using a non-linear timeline that 

intertwines present days and old memories, many echoing some political concerns that are very contemporary to us.

​​​​​
It's no coincidence that the songs Larry sings under the shower (are you watching yet?) are from a very politically engaged Folk artist named Woody Guthrie. In 1954, Guthrie wrote "Old Man Trump", about the racist and discriminatory practices of Agent Orange's very own father...
April 24th 2019. Los Angeles. 7PM
Larry, Yust Explains

premieres at the gorgeous Lemmle Ahrya Theater in Los Angeles in April 2019.
The audience seems to enjoy, and since no one runs away, Larry and I improvise a very relaxed Q&A following the screening.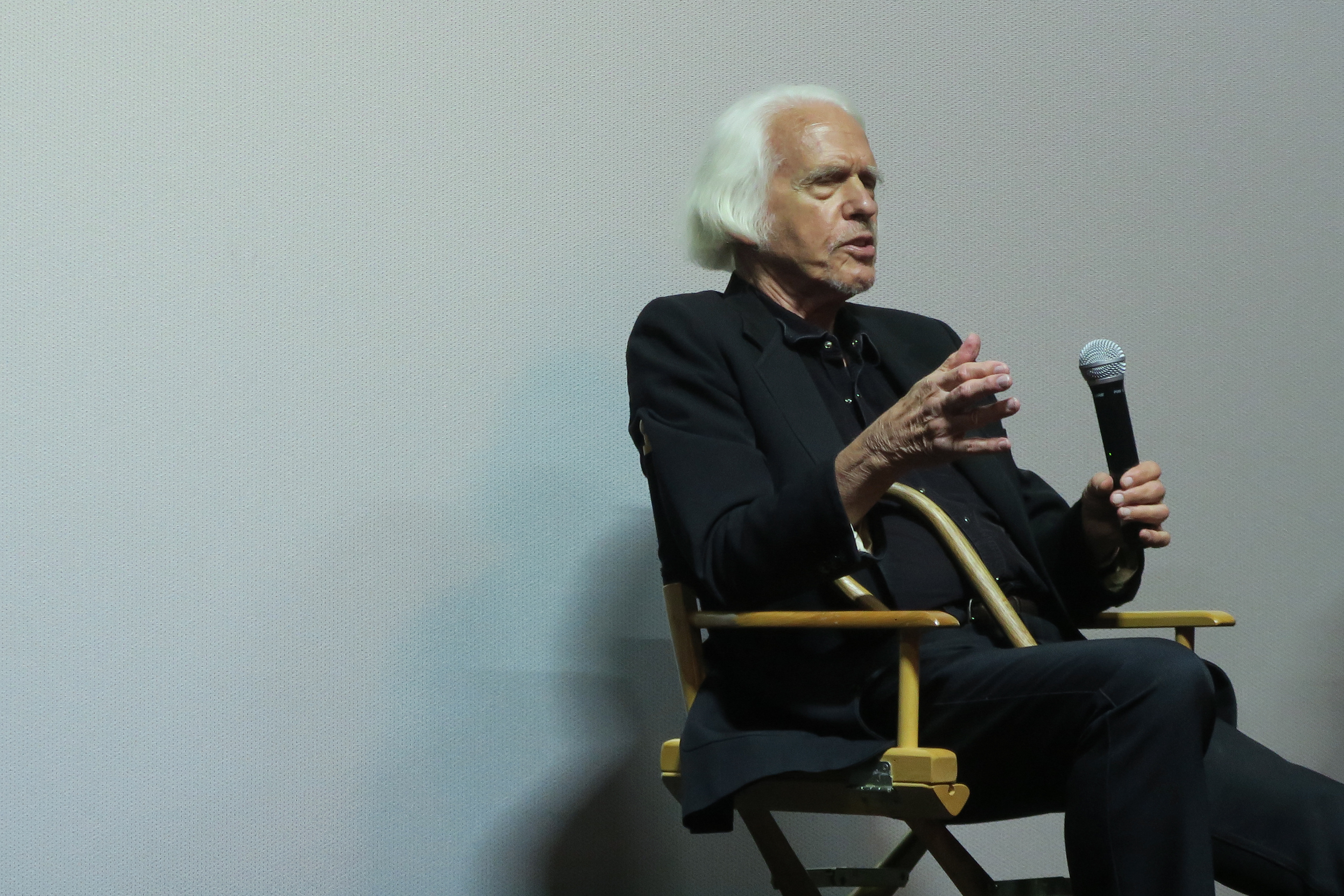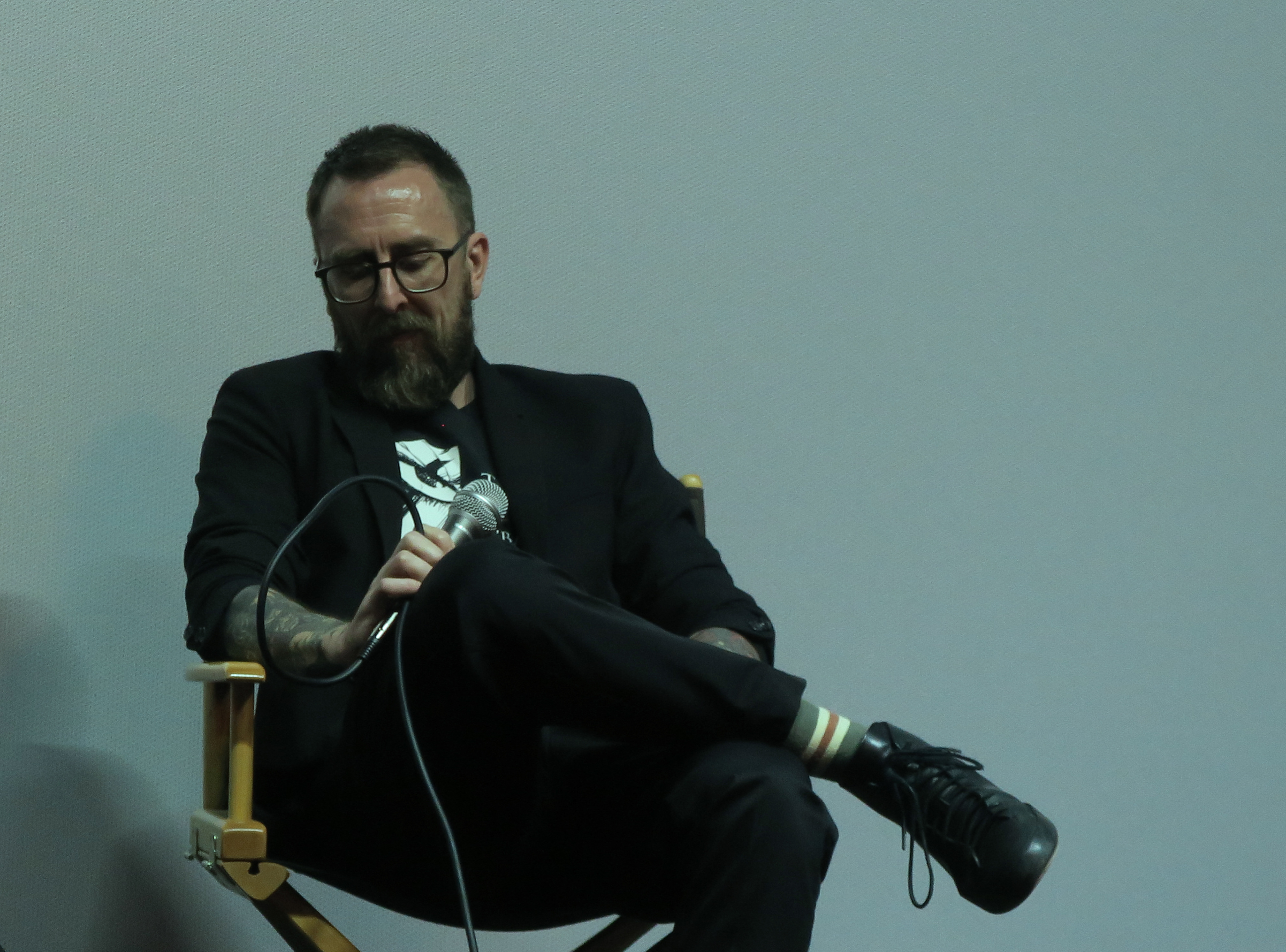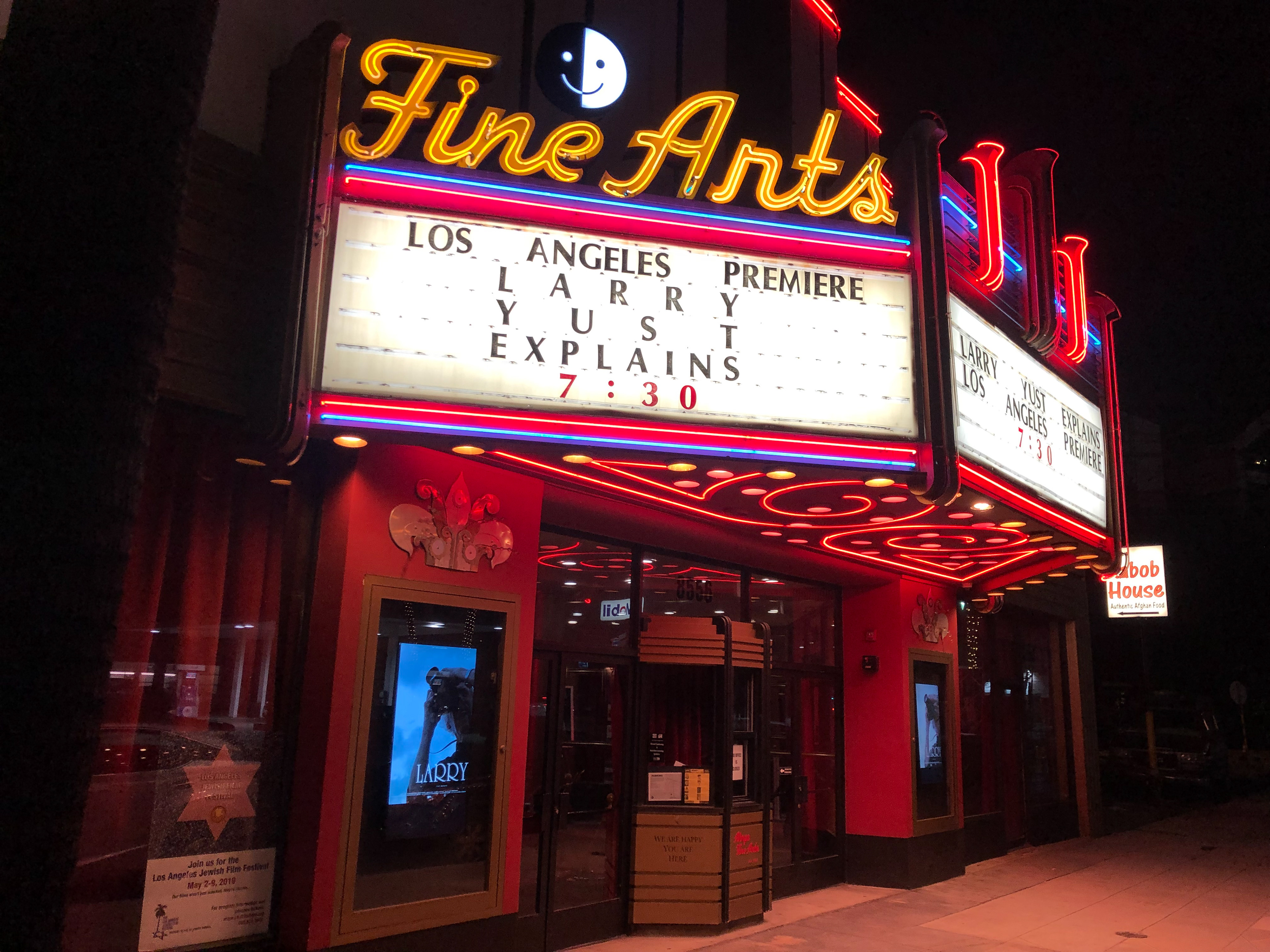 45min. Dolby Digital. 16:9 HD
The film was shot on Kinefinity Terra6K, in golden 3K, ProRes 4:2:2, and e
dited in Adobe Premiere Pro.
Directed and shot by Loic Zimmermann, and e
dited by Raymond Haagen.
Produced by Zander Borsiczky, Jane Kyung Lee & Loic Zimmermann.
Music director: Lucinda Jacobson. Composers: Kevin Curtin & Moon Minor.